The multi-reedist and composer Sam Sadigursky brought his next collection of music to The Samurai Hotel. The ensemble included Bobby Avey on piano, Jordan Perlson on drums, Chris Dingman on vibraphone, Jason Palmer on trumpet and Ljova Zhurbin on viola. In addition, the widely regarded top recording engineer Tom Lazarus captured the music for the 2 day session.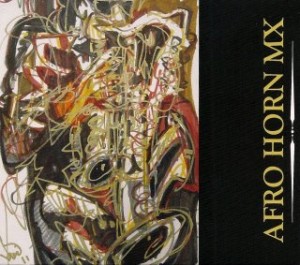 The New Afro Horn project is the "AFRO HORN MX" in the 2012 double CD release, with a new outstanding line up; John JD Allen (Tenor Saxophone), Vincent Bowens (Tenor Saxophone), Alex Harding (Baritone Saxophone), Aruán Ortiz (Piano), Rashaan Carter (Bass), Roman Díaz (Percussion), and Francisco Mora Catlett (Drums).
Recorded and Mixed by David Stoller at The Samurai Hotel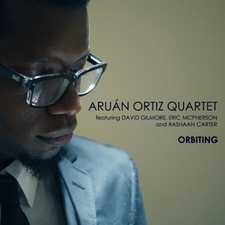 Classically trained violist and pianist, Aruán Ortiz born in Santiago de Cuba arrives with his fourth and latest album negotiates his way through and beyond the scope of his previous projects with a transforming palette of sounds land firmly with a translucent and thought-provoking endeavor titled "Orbiting" on Fresh Sounds | New Talent released in April 2012.
Listen to Ginga Carioca
Personnel:
Aruán Ortiz – piano and all compositions
David Gilmore – guitar
Rashaan Carter – bass
Eric McPherson – drums
Recorded and Mixed by David Stoller at The Samurai Hotel
Steve Turre demonstrates once again why he is one of the first call trombonists in the world on his fifth recording for HighNote Records, WOODY'S DELIGHT. This record is an aptly named homage to his mentor and former boss, Woody Shaw. Steve offers an intensely interesting program featuring five of today's greatest trumpeters in a program that captures at once Woody's fierce intensity, his limitless imagination and versatility and refracts it through the creative mind of Turre who delivers a tribute record which goes far beyond playing familiar repertoire but rather recalls the very spirit of its subject. On hand to help are the trumpeters Jon Faddis, Wallace Roney, Claudio Roditi, Freddie Hendrix and Chocolate Armenteros.
Steve Turre, trombone & shells. Featuring Jon Faddis, Wallace Roney, Chocolate Armenteros, Claudio Roditi & Freddie Hendrix – trumpets. With Buster Williams, Corcoran Holt, Dion Parson, Duduka Da Fonseca, Luis Perdomo, Andy Gonzalez et al.
TRACKS: Woody's Delight • Something for Sweets • In Retrospect • Luna • Annette's For Sure • Adios Mi Amigo • Manny's Mambo • 3 for Woody • Brother Bob
Recorded and Mixed by David Stoller

"A sweeping spectacular suite"
"One of the finest works of modern music"
"This record by a very special artist will go down as one of the most significant works of music. Its power, significance and beauty will forever linger in the soul, where all musical art is enjoyed to the fullest."
Latin Jazz Network
"Aruan Ortiz's Santiarican Blues Suite… was exciting, beautiful and entertaining. The bright colors and Latin rhythms made were enrapturing, and before I knew it the piece had come to an end before I was ready."Boston Theatre Review
Listen to San Pascual Bailon

This new ensemble, Camerata Urbana, has the unique experience of interpreting Cuban-Haitian traditions in a new format that integrates all of the cultural traditions from Oriente, Cuba, including classical, folkloric, and jazz music. Lead by accomplished composer and pianist Aruán Ortiz, this ensemble boasts talent from various Latin American countries with Afro-Latin heritage. Each musician expands consciousness, pushes boundaries, and creates a unique sound that evokes their Afro-Latin, classical, jazz and contemporary classical musical training. Camerata Urbana's past performances include Metropolitan Museum of Art, and Zinc Bar in New York City. They collaborated with the 25th Anniversary season performance of the José Mateo Ballet Theatre in Boston, and their first CD Santiarican Blues Suite was released in April 2012 on Sunnyside Records.
Peronnel:
Aruán Ortiz, piano, conductor and director
Zoe Hillengas, flute
Machiko Ozawa, violin
Luis Casals, violin
Samuel Marchan, viola
Brian Sanders, cello
Pedro Giraudo, bass
Mauricio Herrera, percussion
Recorded and Mixed by David Stoller at The Samurai Hotel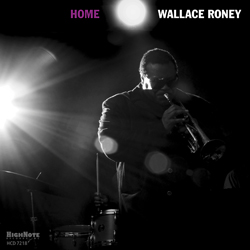 The inventive and adventurous open-minded approach of Wallace Roney's previous HighNote releases is firmly maintained on Home. Roney is taking the eclecticism of all his influences and gradually merging them into a coherent whole, be it bebop, postbop, Trane, Herbie Hancock and Weather Report funk and fusion, hip-hop and, of course, Miles Davis, his guiding light. But despite the influence of Miles, Wallace Roney is mainstream only in the sense that he builds on what went before. And most importantly he does that with the essence of what jazz should be: A vehicle for self-expression, an instant form of communication, a conduit of the musical, mental and emotional self. Featuring his working band, Home is yet another example of Roney's tireless exploration of the communicative possibilities of jazz and cements his place in the pantheon of all-time trumpet greats.
WALLACE RONEY, trumpet
Antoine Roney, soprano & tenor saxophones • Aruan Ortiz, keyboards • Darryl Green, Fender Rhodes • Doug Carn, piano • Rashaan Carter, bass • Kush Abadney & Bobby Ward, drums • Shakoor Sanders, percussion
TRACKS
Utopia • Home • Pacific Express • Plaza Real • Dawn • Evolution of the Blues • Ghost of Yesterday • Revive
LABEL: High Note Records
Recorded and Mixed by David Stoller at The Samurai Hotel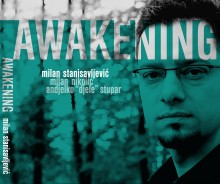 Milan Stanisavljevic evokes the intimacy of a trio to set up some evocative images on his debut CD,Awakening. The pianist has his vision and his focus in clear perspective; this is a jazz recording, the music well within the mainstream, even as Stanisavljevi? finds his calling in swing and blues. Tempering that approach is the solid empathy that he has with drummer Andjelko "Djele" Stupar and bassist Milan Nikolic.
Track Listing: Awakening; Glass; Trinity; Playground; Day & Night; Chico's Blues; Why?; Tebe Nojem.
Record Label: Celinka Records
Mixed by David Stoller at The Samurai Hotel
Ronnie Burage brings us a new record, Spirit Guides: Truth & Love Music, featuring 10 of his inventive compositions with an eclectic group of musicians and poets.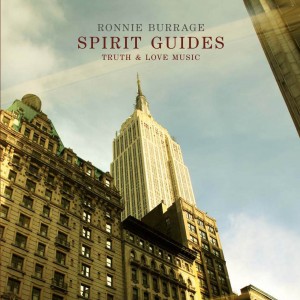 Burrage's grandfather, Allen David Mahr, was a poet, and Burrage has words in his blood. St. Louis poet Quincy Troupe is featured on Spirit Guides, where he and Burrage are joined by St. Louis guitarist Kelvyn Bell. Andy Ninvalle – a West African transplanted to Amsterdam – raps, as do three of Burrage's students from his hip-hop and culture course. In a homage to his mother, Cosandre Burrage, and her struggle against cancer, the son's soaring vocables reach for language in an arc of pain and hope. In fact, many of his spirit guides on Spirit Guides are his blood kin. That poet grandfather, who influenced Shirley LeFlore, stamped out the rhythms of this born drummer. His mother, a pianist, is probably his single strongest shaping influence. And his uncle, the Paris-based musician Rasul Siddik, plays daring trumpet and flutes on the record.
Spirit Guides was recorded over the last decade by David Stoller.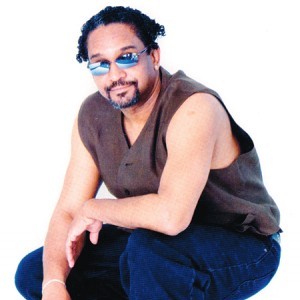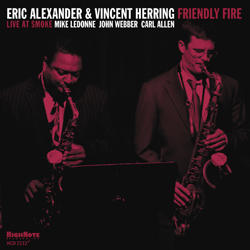 One of the hipper venues in New York City, Smoke is a quintessential jazz club and cocktail lounge where the jazz cognoscenti congregate seven nights a week to immerse themselves in a potent mix of hard bop and martinis. It was the venue for alto saxophonist Vincent Herring's and tenor man Eric Alexander's first sparring match and it was the only logical place for a re-match which we have here. Reuniting for their second recording together, Eric and Vincent Herring lock horns once more in a high-voltage set which unfolds in the spirit of mutual admiration. While their collaborative ethos makes "Friendly Fire" the thoroughly musical affair that it is, the saxophonists bring the unmistakable charge of friendly rivalry to the date as well. A great tune list and the presence of an enthusiastic audience make this a worthy addition to the two saxmen's considerable discographies.
ERIC ALEXANDER, tenor saxophone
VINCENT HERRING, alto saxophone
Mike LeDonne, piano • John Webber, bass • Carl Allen, drums
TRACKS
Pat 'n' Chat • sukiyaki • Inception • Dig Dis • You've Changed • Here's That Rainy Day • Mona Lisa • Timothy
Recorded and Mixed by David Stoller